Gruppo Energia switch disconnector will rapidly and safely disconnect the capacitor bank from the main circuit. 
Our switch disconnectors are very durable and tested for use in the most demanding applications.
The choice of a circuit breaker depends on the rated current of the power factor correction equipment.
Standards:
DIN EN 60947-1: 2015-09; VDE 0660-100: 2015-09
Origin: 100% made in Italy
Please consult the table below for more information about how to calculate the rated current.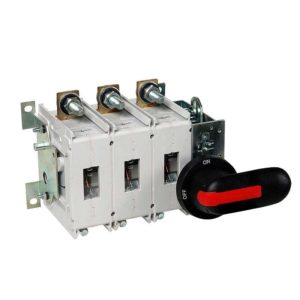 GE-VC-3:
Gruppo Energia Load Break Switches ensure an efficient switching and an enhancement of the life cycle of your equipment.
Features:
Efficient and reliable construction;
Flexibility to suit different types of equipment;
Convenient and easy to use

.
For more information, please consult the table below: 
| | |
| --- | --- |
| Frequency | 50 Hz / 60 Hz |
| Ambient temperature | 55° C |
| IP level after mounting | IP 54 |
| Current range | 160 – 3150 A |
| Operating voltage | 415 V |

For more information download the data sheet and don't hesitate to contact us.
 In order to correctly choose a circuit breaker, you must consider the rated current of the PFC equipment, which must be calculated as follows:
1,5 x [Total Power/(System Voltage x 1,73)]
Example:
Capacitor bank with Intact Plus capacitors.
Total Power: 250 kVar at 400 V, 50 Hz
===> 1,5 x [250 kVar/(0,4 V x 1,73)] = 1,5 x 361,3 A = 542 A
In this case the best choice would be a 630 A switch disconnector (order code GE630K3).
For assistance or any further information don't hesitate to contact us.